HOW TO LAND A TOP-PAYING FEDERAL JOB
By Lily Whiteman
With a foreword by Congresswoman Eleanor Holmes Norton of Washington, DC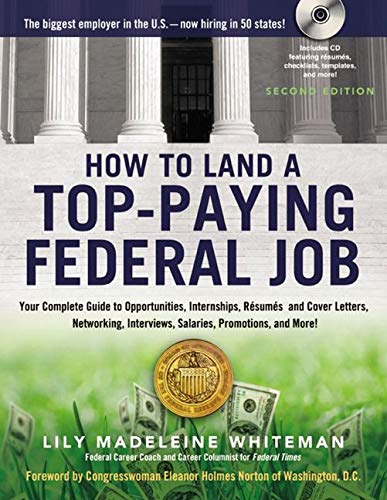 Finally, a federal career coach reveals how to really find openings, vault ahead of the competition, impress hiring managers, negotiate a top-dollar salary and accelerate your advancement.
THE ONLY CAREER GUIDE THAT:
Simplifies, demystifies and defangs the entire job search process–from finding openings to sealing an enviable deal.
Gives the complete lowdown on how to negotiate a big fat federal salary.
Divulges little known strategies for finding US and overseas openings. (Many of the best jobs are never advertised.)
Directs undergrads, grad students and recent grads to over 100 of the hottest, high-paying summer and year-round internship programs and management training programs. (Even if you're just starting your career, don't slave for free.)
Explains how to give A+ interviews and how to craft irresistible cover letters, resumes, and application essays. This book is loaded with examples that will enable you to STAND OUT FROM THE PACK!
Reveals time-tested strategies for accelerating your career climb.
IT'S A GREAT READ, TOO
Other federal career guides are written with all the verve of the tax code. But this book motivates and entertains with confidence-building tips, success stories and humor.
WHO THIS BOOK IS FOR
Whether you're seeking an internship or a Senior Executive Service job, this book will arm you with career-boosting advice. This advice is just as useful to non-feds seeking federal jobs as to current feds seeking promotions.
EXPERIENCED-BASED ADVICE
How to Land a Top-Paying Federal Job explains techniques successfully used by hundreds of Lily's clients and provides advice from 100+ hiring managers who serve as gatekeepers to federal jobs.
BUY How to Land a Top-Paying Federal Job